Thomas E. Mallory, Trustee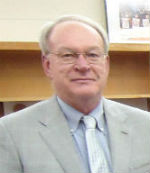 Tom Mallory was elected to the Board of Education in 2010. He is a 1968 Whitehall graduate and a 1972 graduate of Hope College with a Bachelor of Arts degree in Education (communications and economics). He has been an agent with State Farm Insurance in Whitehall for over 35 years. He is a current board member of the White Lake Senior Center, and the Whitehall Downtown Advisory Board, past chair of the White Lake Chamber of Commerce, and past member of the Lion's Club.
Tom is concerned with today's financial crisis in education and how it is affecting the quality of education provided to students.
Tom is currently serving as Board Of Ed Trustee.