Douglas M. Ogden, President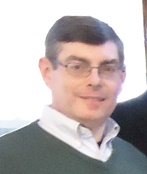 Douglas M. Ogden, President
Douglas Ogden was elected to the Board of Education in 2012, taking his seat in January 2013. He is the Pastor of Lebanon Lutheran here in Whitehall, coach of the Muskegon Youth Luge Team and member of Boy Scout Troop 1048. He hails from Springfield, Ohio, Shawnee High school class of 1978. Doug holds degrees from Wittenberg University and The Lutheran Theological Seminary in Philadelphia.
He and his wife Monica are proud of their children Stephen and Allie. Stephen is a 2015 grad of Whitehall and a 2019 graduate of Wittenberg University. Allie is a 2011 grad of Whitehall, a 2015 grad of Wittenberg and currently in a masters program at Grand Valley State University in speech pathology. Monica is employed at the 60th District Court, and is an excellent musician.
Doug looks forward to continue supporting teachers and students in doing great things, and finding the resources to make them happen.
Doug is currently serving as Board of Ed President. His term runs thru December 2022. You can contact him at: dougogden@whitehallschools.net